Costa Rica Bachelor Party –  Costa Rica welcomes about 2 million visitors per year. The number of guys going there for bachelor parties is getting higher each year because of quick & inexpensive flights to the country, gorgeous girls, and with so many activities like rafting, golf, and sport fishing it is becoming a more popular choice than Las Vegas to host a Costa Rica bachelor party.
There are many activities for bachelors to enjoy in Costa Rica. There's the world-class nightlife including strip clubs, discos, casinos, and bachelor friendly bars. During the day you can truly experience what draws so many travelers to the land of "Pura Vida"; white water rafting, ATV riding, sport fishing, zip lining, and other adventure tours to truly have a bachelor party experience you will never forget during a Costa Rica Bachelor Party.
In Costa Rica, the Central American bachelor party capital, there are too many bars, clubs, and casinos to name. You will be able to start in San Jose and experience the world famous Del Rey Hotel and Blue Marlin Bar before heading to Jaco Beach to set up shop for the week and take in the incredible atmosphere that makes Jaco the perfect location for holding a bachelor party.
Jaco Beach is full of the kind of places bachelor party groups are looking for and that's why it's the most popular town in Costa Rica for bachelors to visit.. It's central to a plethora of options for accommodations, excursions, and party places. The Monkey Bar, Orange Pub and Le Loft in Jaco are known for progressing nightly from mild to wild.
Costa Rica Guy's Trip will make sure you get VIP service at all the bars and clubs so you will not have to wait in line. You will truly feel like a rock star when hitting the town at night and so will the bachelor.
Not to mention the girls. Costa Rican women are beautiful, sensual, normally in bikinis all day and wanting to party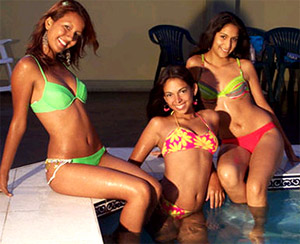 with you and your boys. Costa Rica Guy's Trip service will show you where and how to get these women to come back and spend time with your Costa Rica Bachelor party group.
A Costa Rica bachelor party in Jaco will consist of a luxury private rental with a pool and full service concierge to attend to your every need. They will be close to the best surfing beach and over 100 great restaurants with international cuisine to meet any taste. Every night, tourists find an assortment of beach bars, live music, clubs, adult entertainment, and bachelor friendly bars to choose from.
For all of you sport fishing fanatics Jaco is only ten minutes from Costa Rica's best marina for sport fishing, Los Suenos. Costa Rica Guy's Trip has connections to may of the boats and captains for all your sport fishing needs.
A Bachelor Party with Costa Rica Guy's Trip
You and your group will be set up in a luxury house in Jaco during your stay in Costa Rica
Connections to local clubs & bars so you will get VIP treatment during your entire stay in Costa Rica
Hosts that are fluent in English and Spanish to help you along the way and make sure you do not get in trouble
Connections to local sport fishing charter & tour operators to ensure low prices
We will help with all the details of the bachelor party celebration night and entertainment
You can include a stay in one of the bachelor friendly hotels in San Jose (Del Rey/Sportsmens Lodge)