Costa Rica Tours and Day Trips || Costa Rica & Jaco is more than just a strip of bars and clubs. There are amazing adventures waiting for you and your group to experience. You probably will want to see and do more than hit the party scene during your vacation.
Costa Rica Guys' Trip has contacts with many of the local tour operators and can get them at close to cost for you.  The list below are some of the more popular tours and day trips but our travel team can make sure you customize your vacation to experience as much as you can during your stay in Costa Rica.
18 Holes at La Iguana Golf Course (Los Suenos)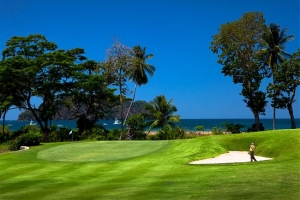 The La Iguana golf course at Marriott Los Suenos is an incredible golf course in Costa Rica. It has a nice mix of short and long holes, wide fairways and sneaky hard par 3s. The most attractive thing about the course is the location in the rainforest only 10 short minutes from Jaco. You literally see monkeys, macaws and other exotic animals while playing your round along the Los Suenos marina.
All-Terrain Vehicles (ATV's)
Hop on your ATV and head out into the surroundings of Jaco and take in the ocean & mountain views while running into exotic animals. Transportation, vehicle, helmets, sandwiches and beverages are provided. Bring tennis shoes, bathing suit, towel, sun block, and camera as some of the tours take you to some incredible waterfalls.
Waterfall Canopy Tour
One of Costa Rica's best canopy tours that uses over 20 zip lines, 2 rappels (what a non-experienced person can easily do) and suspension bridges. The waterfall canopy tour is a unique eco-adventure during which you can spend some great time amidst the rainforest and zip down to crystal clear waterfalls.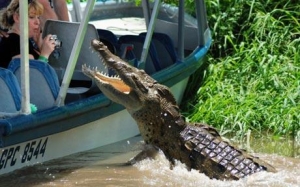 Crocodile Safari
The Crocodile Safari takes place on the Tárcoles River home to one of the world's largest crocodile populations in the wild with individuals up to fifteen feet long. In addition to the crocs, there are over fifty different kinds of birds that can be seen on site, including the very rare scarlet macaw.
Private Surf Lessons
The surf lessons are 2 hours per session. Learn to surf with qualified instructors who themselves are expert surfers and trained with life saving skills. Learn basic ocean knowledge likehow to read the waves, the tide, the swell and the wind. Learn the fundamentals like paddling methods, how to "duck dive", and how to get up on the board for the first time. Considering Jaco is world renown for surfing you might want to try it out.
Jaco Ropes – Ropes Course Tour
The adventure starts by climbing the stairway to heaven to the platforms and at an average height of 23 feet under the shade of the jungle trees 12 more obstacles await. The one and only adventure zip line gives objects for you to hit making the experience interactive and fun. Surf the air, Tarzan swing and the most challenging tire pass are 3 favorites.
Calypso Catamaran Cruise 
Enjoy a beautiful cruise on the Pacific and explore the white sand beaches of Tortuga Island off of the coast of Jaco
Banana Boat Tour
Get ready for some fun as you bounce and jump along the Pacific on a banana boats.
Water Skiing and Wakeboarding Tours
Challenge yourself and get a great workout on a water skiing or wakeboarding tour.
Rafting on the Naranjo River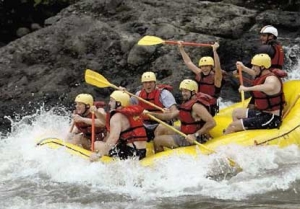 A Class III/IV half-day challenge for more experienced paddlers. The Naranjo drops from the mountains above Quepos, through a beautiful jungle gorge and takes you on a wild ride to sea level passing nearby farmlands and palm plantations.
Jet Ski Adventure Tour
Enjoy a unique 2 hour excursion on Yamaha wave runners to see the sights around Manuel Antonio National Park.
Parasailing Tour
You get a bird's eye view of the beautiful Manuel Antonio coastline from up to 600 feet above the Pacific Ocean.