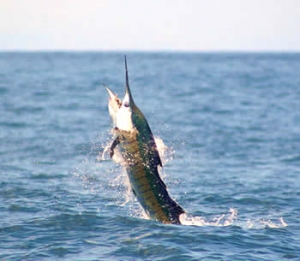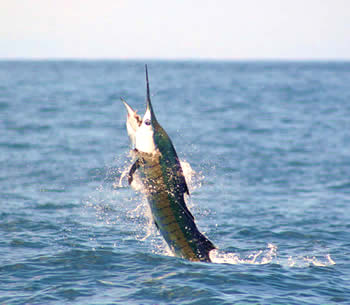 Costa Rica Sport Fishing || For your Costa Rica guy's trip or bachelor party you can enjoy catching and releasing Sailfish, Marlin, Swordfish, and Mahi Mahi. Jaco is one of the best spots for deep sea as well as coastal fishing adventure and is known for professional crews and quality boats in fish filled Pacific waters.
Many saltwater species abound in Costa Rica and fishing records have been broken in the waters off the coasts of the country.
Located only 10 short minutes from Jaco, Los Suenos and its fabulous marina are found in the Central Pacific region and have the best fishing opportunities in Costa Rica year round. December through February is when you'll find Marlin and Sailfish. As the water gets warmer, Tuna appear.
If you are looking for more of an inshore experience Grouper and Snapper are found in the fall as well as you can hook Roosterfish that hide near the rocks. For a fishermen, no matter beginner or advanced, there's no better place to cost your line than at Los Suenos.
Chefs in the Jaco area are experienced in cooking your catch so if you want bring it back home and Costa Rica Guy's Trip will be happy to have it prepared for you.
Costa Rica Guy's Trip has selected only those boats from both Los Suenos Marina and Herradura Bay, that meet our high standards t ensure your charter is perfect. The charters we have chosen consistently produce strong numbers of trophy fish including Marlin, offer the best customer service for you and your group, and are equipped with the the best tackle & rigging.
Costa Rica Fishing Trip Categories: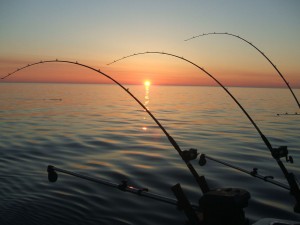 Deep Sea Fishing or Off Shore Fishing:
You will travel 18-40 miles off shore to target trophy Sailfish, Blue,Black and Striped Marlin, Mahi-Mahi, Yellowfin Tuna, Wahoo and more. Billfish (Pacific Sailfish, Blue, Black and Striped Marlin) as well as Mahi Mahi & Yellowfin Tuna are caught here year round in Costa Rica. The peak season for Bill fishing in Costa Rica is December through May.  Peak seasons are January through April for Mahi and January through August for Yellowfin Tuna.
Near Shore Fishing:
You will travel 5-10 miles parallel to the coast or across the bay of Jaco. On these trip you will normally targer Rooster Fish, Amberjack, Grouper, Snapper and Sea Bass. Roosterfish are caught here year round but peak in July-August & Feb-April. Grouper, Snapper, Amberjack and Corvina are caught all year long in the waters of Costa Rica.
Trip Length: (Deep Sea/Off Shore or Near Shore)
Full Day [Recomended]: 8 to 8.5 hours long.
Departing 7:30am – Return 4:00-4:30pm. best option for highest chances of success and higher numbers of fish caught.
Half Day: 4.5 to 5 hours long.
Typically departs 7:30am – Return 12:00-12:30pm or depart 12:00pm and return 4:30-5:00pm
Please check out our selection of fishing charter boats available for you and your group.